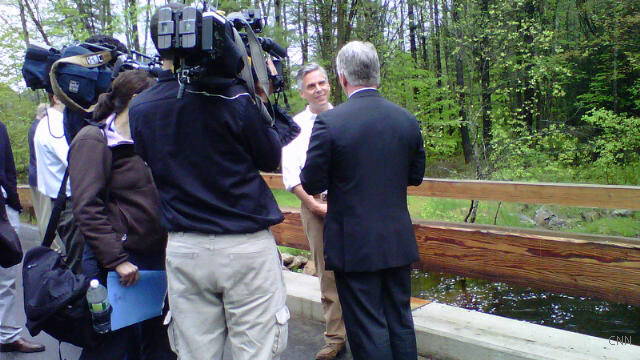 (CNN) – Former Utah Gov. Jon Huntsman has yet to make a formal announcement that he might be running for president, but tells CNN's John King, if voters don't like him, "there's always other alternatives."
In an interview set to air on John King, USA at 7PM E.T., Huntsman asserts he's "for civil unions" and doesn't mind being criticized by some conservatives for his past record of supporting equal rights for gay couples. "I'm for traditional marriage but I think...it comes to equality and fairness," and he challenged unconvinced conservatives to look at his "total record".
"Like every person who's been elected to office and tried to do things, some things you'll like and some things you won't."
In April, Huntsman came under harsh criticism from his opponents after a series of letters he wrote to Pres. Obama were leaked. The letters, written in August of 2009, refer to Pres. Obama as a "remarkable leader" and give praise for Pres. Clinton's "brilliant analysis of world events".
Asked whether Huntsman believes he can be the GOP's pick for a nominee in light of his revealing comments toward a Democratic president, Huntsman dismisses the criticism, asserting, "I believe in civility. I believe we ought to have a civil discourse in this country. You're not going to agree with people 100% of the time but when they succeed and do things that are good, you can compliment them."
To see the full interview, tune in tonight at 7PM ET.