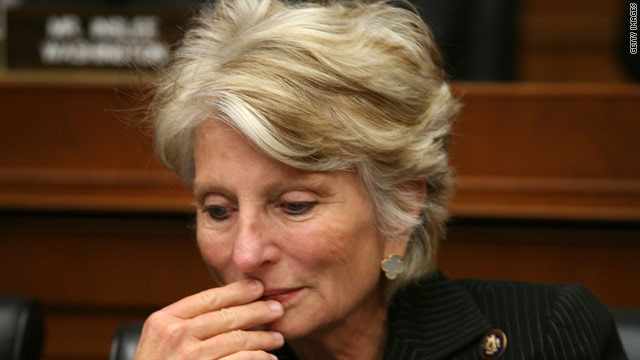 Washington (CNN) – Democratic California Congresswoman Jane Harman said Tuesday the cost of a special election, forced by her resignation from Congress, will likely be "minimal." But despite her call to fill her seat as "quickly as possible," her abrupt resignation will likely result in her constituents being unrepresented for months.
Harman announced she would resign her seat in Congress in order to accept an appointment as the head of the Woodrow Wilson International Center beginning on February 28 at a news conference on Tuesday. She was sworn in to her ninth term representing the 37th district of California last month.
In an interview on CNN's "John King, USA," at 7 p.m. E.T. Tuesday, Harman revealed the possibility that the special election to fill her seat may be folded into a ballot already planned for this summer, leaving the seat unfilled for a minimum of several months. When Rep. Hilda Solis was nominated by President Obama to become labor secretary in 2009, a special election held to fill her seat cost about $1.5 million, according to the Los Angeles Country registrar.
Harman told Chief National Correspondent John King that California Gov. Jerry Brown has "some real latitude" to plan the special election and acknowledged the severe budget woes faced by the state.
"He is planning, so I understand, to hold a special election this summer on extending some tax provisions for the state, which is in dire straits, and this election could be part of that ballot. That would save a lot of money…if there is an outright winner in the race that is on the same ballot as Governor Brown's tax issue then the race is over," she said.
Expressing hopes that the process will be as quick and painless as possible, Harman continued, " The seat will be filled, and I think the cost to taxpayers will be minimal. I hope that is what happens, I think the seat needs to be filled as quickly as possible."
Harman won re-election last fall after what she called a "a very big victory." In the interview, Harman said her 36th district residents were not far from her mind when weighing the decision to join the Woodrow Wilson Center.
"I hesitated quite a bit because of my commitment to my constituents, to my excellent staff and to my colleagues here. But I ultimately decided that after 17 years in Congress, and these years are like dog years…having done my best both in majority and minority circumstances, that a new challenge is something I couldn't refuse," she said.