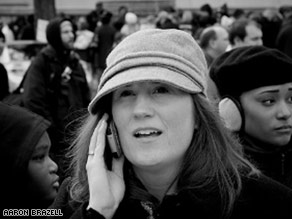 Erin Kotecki Vest, the political director of BlogHer, can always be found on her phone tweeting. (Photo by Aaron Brazell.)
Editors Note: John King, USA regularly reaches out to get the pulse from different communities. After appearing on the show yesterday, we asked Erin Kotecki Vest, the Political Director of BlogHer and a Mom of two, to let us know what political issues were important to women this week.

As Political Director of BlogHer, I get to read the best of what women are saying today about policy, politicians and pundits as the rhetoric makes its way from Washington D.C. to their kitchetables. Take a look at the conversations today:
Morra Aarons Mele talks Women and Workplace Flexibility in the wake of the White House Forum.
A few things really struck me at the first ever White House Forum on Workplace Flexibility. The first is that President Obama said "Workplace flexibility isn't just a women's issue." Even if no public policy results from today's session, the culture change that comes when people like Obama say things like that is big.
Tabitha Hale writes about the face of the Tea Party being female and the possibility women will turn from the Democrats.
It's clear that woman have been a driving force in this movement, probably more than ever before on the Right. It can be attributed to a lot of things, not the least of which is, as Darla DeWald said in the Politico piece, is the "mama bear" instinct that kicks in when women feel that their children are at risk. Now that it's clear that the issues at hand are going to effect every child in this country, the maternal instincts are kicking in. Mothers will fight for their children
MOMocrats are talking education, and the controversy with the Texas State Board of Education.
Lest you think it gets (politically) boring - ever - down in Texas, I'll disabuse you of that notion citing the current battle over the minds of Texas schoolchildren. Like Biblical, Classical and Mythological figures (to be fair to all points of view), the Indoctrinate side has squared off against the Educate side.
Gina Carroll tackles the resistance to the Census.
...my census form still lies unopened on my kitchen counter. Robert Grove, director of the Census Bureau, would like for us to think of today as the due date, however, because the government wants our demographic information as soon as possible.
And Pondering in the Desert is still fuming over the passage of health care reform.
I have been stewing. Stewing and pondering and desperately wanting to write down my thoughts, but I've been so frustrated and angry and sad that I've been careful to choose my words wisely (and until now, that has been to hold them). But, the silence has to be broken – I can no longer hold my tongue against the atrocities that have been committed against the US people...